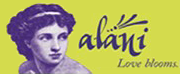 Our supplier: Alani Gardens (RFH Nr. 97863)
"Love Blooms"
Alani Gardens is a boutique rose farm in the highlands of Kenya. Located in Njoro, 20 km south west of Nakuru, at 2,400 meters above sea level, the farm has currently 15 hectares of rose production. The unique geographic location and ideal weather conditions combined with abundantly fertile soil, produce prime quality roses.
Through a continued process of research & development in close association with the most recognized German Breeder, Rosen Tantau, Alani Gardens has acquired a level of technical expertise that constitutes a guarantee for premium flower quality. All roses have been carefully selected for their beauty and charm.
Alani Gardens is constantly investigating and developing new solutions for a cleaner and greener flower production. Care for the environment and commitment to create good working conditions for the Alani employees, are reflected in the consistent quality of the product.
Alani Gardens has a marketing company in The Netherlands.
For more info please visit: www.alani-gardens.com